Designed for Your Life. Guaranteed.
Thermal's Inside-the-Glass Mini-Blinds option enables homeowners to adjust the amount of light that they let into their home or the amount of privacy needed by effortlessly tilting the slats to any position they desire.
Benefits
Convenience—No more time consuming dusting or cleaning since the mini-blinds are inside the insulating glass unit.
Adjustability—Blinds raise, lower and tilt to allow the precise level of light and view desired.
Instant Privacy—Completely close off the entire door's glass area in just seconds.
Peace of Mind—no external corded operator makes these Mini-Blinds safe for children and pets.
Attractive—Mini-blinds enhance the LeganceTM Patio Door and the entire room with a polished and distinctive appearance.
Product Availability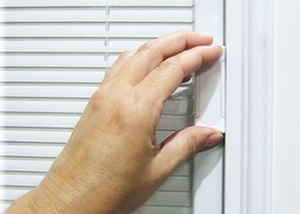 White Color Blinds Only
5' and 6'-size Patio Doors
Dual Glazed, Hard Coat Low-E is Standard
Insulating Glass Units with Mini-Blinds have a ten (10) Year Non-Prorated Warranty
Inside-the-Glass Mini-Blind Option is NOT available with the following  Patio Door options:
8' and 12' doors
Natural Woodgrain, Honey Oak or Caramel Oak Woodgrain Finishes
French-style doors
Any glass package with enhanced with Argon or Krypton Gases, or triple pane glass packages
Custom-size doors