Garden Window Installation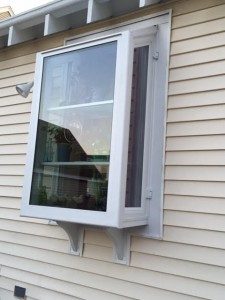 Installing a garden window is a great way to let in additional light into your indoor space as well as showcase your indoor plants. Garden windows should not be confused with bay or bow windows, as they are much smaller and look more similar to a cube with windows on all sides. Seacoast Replacement Windows can install a garden window in any room in your home. The most popular places past customers have them installed is in their kitchen above their sink, or in an enclosed 3-season sunroom. Our window installation experts will work with you to determine the best size and location of your new garden window.
Why Choose a Garden Window
• Solid Vinyl Construction will not chip, peel or rot and never requires scraping or painting
• 1-1/4″ Hardwood Head and Seat Board with Birch Veneer Interior
• Colonial-Style Pine Casing standard with every garden window
• Hand-Sanded 1-1/4″ Birch Veneer Jambs to match Head and Seat Board
• Corrosion-Resistant Hardware provides years of performance
• Wood Knee Braces provide support
• Safety Glass Roof laminated glass roof offers peace of mind
Garden Window Installation from Seacoast Replacement Windows
• Lifetime Warranty, Lifetime Insulating Glass Warranty and Lifetime Glass Breakage Warranty for your peace of mind
• Casement Vents provide ventilation
• Multi-Point Locking System offers peace of mind
• Folding Handle ensures easy sash operation
Ready to have an indoor herb garden and let in some more natural light into your home? Contact Seacoast Replacement Windows today for a free estimate on a garden window installation!